Are you grappling with uncertainty about your next career/work move?
Do you "sort of" know what you want, but have no idea how to make it a reality?
Are you stuck and unable to move forward due to obstacles (perceived or real) in your path?
Do doubt and fear play a role – or take over – when you're trying to move forward?
If you answered "Yes" to some or all of these questions, come and receive the support and guidance you need to clarify your true path and live your vision of meaningful success.
DESIGN YOUR NEXT CAREER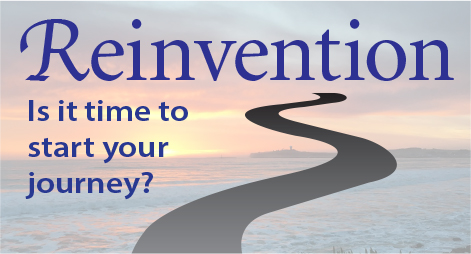 This innovative program is designed to help you figure out your next step and build the confidence and resilience you need to make it happen. Working in a small group, you will:
Discover what gives your life and work meaning so you can create a clear, new vision for your life/career and start making it a reality.
Discover what gives your life and work meaning so you can create a clear, new vision for your life/career and start making it a reality.
Walk Away with powerful tools to handle your fears, quiet your inner critic and create new beliefs that will empower you to take your next step.
Boost your confidence and resilience so you can effectively handle obstacles, uncertainty, and setbacks.
Receive support and accountability so you can continue to move forward toward your goals.
As someone who has reinvented herself several times, I can assure you that it's more productive, enjoyable and affordable to take this journey in a supportive group setting.
DETAILS
Each program is limited to "six" participants.
Here are the details:
Six Saturday Mornings ( every other week) – 10 am-12:30 pm – November 2nd, November 16th, December 7th, December 21st, January 4th, and January 18th
OR
Six Wednesday Mornings -10am-12:30 pm – September 18, October 2, October 16, October 30, November 13, December 4.
WHERE: Career Generations, 2225 East Bayshore Road, Palo Alto, CA 94303
INVESTMENT: $425 which includes all sessions, a workbook, and an initial 30-minute coaching call with me to discuss your unique situation.

Questions about your readiness for this program?
Contact me at anne@daretoreinvent.com or call (415) 830-2373 to schedule a free 30-minute coaching session
to determine if this program is the right fit for you.
"Anne has a real knack for getting at the heart of reinvention while finding your purpose and passion. It's one thing to say that you want to reinvent yourself and it's another to know how to implement it. With her step-by-step approach, I was given the tools and support to come up with a clear vision and attainable goals to create my dream job. Her wisdom and coaching was invaluable." – Nancy Bardsley
"If you are looking for a way to refresh, regenerate and transition into a plan for your next life/career phase, then I highly recommend participation in Anne's Dare-To Reinvent workshop series. Anne shares her own personal stories of transition to help illustrate and sort through all the latest trends on how to re-imagine your life. Most importantly, you'll walk away from Anne's series with tangible steps to move forward. It's worth the time. Dare to reinvent your life!" – Vice President -Technology Industry
"As a result of the Reinvention course, I've gotten incredible clarity around what I want professionally, the motivation to explore new personal interests and the confidence in myself to go out and pursue that life without fear." – Dan Gottesfeld
ABOUT ANNE

Anne Martin is a Reinvention Strategist, Certified Professional Performance Coach® and transformational speaker with the mission of empowering people to achieve meaningful success.
As an attorney who reinvented herself as an award-winning sales leader for a leading international consumer products company, she has trained coached and mentored hundreds of women in entrepreneurship, personal development and leadership. After 15 years of building a thriving business, she reinvented herself again as a coach, speaker and workshop facilitator.
In her work, she blends lessons from her years of legal practice with her leadership experience and coaching training to help people redefine success for themselves and break through the barriers that keep them from reaching their full potential.
Her most popular workshops and presentations include The Pillars of Self-Confidence, Breaking the Confidence Barrier and Thriving through Transition.