The Master Key to Self Confidence
Categories: Confidence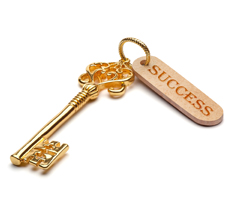 Do you tend to stay on a safe predictable path because you're afraid to take a risk? This is the rut my friend Allison, a talented professional at a large high tech company, had slipped into.
Allison had been at her company for three years when her mentor suggested that she apply for a team leader position. She hesitated because the position required frequent presentations and she considered herself a poor public speaker. Allison's belief stemmed from a college experience when she had frozen during a key presentation, which had resulted in a poor grade. This led her to avoid making presentations or speaking up at meetings as much as possible. She acknowledged that this had held her back in her career but felt that there was very little she could do about her "lack of talent" in this area.
Does Allison's viewpoint sound familiar?
THE RUT OF A FIXED MINDSET
Allison's thinking is an example of a fixed mindset, which, according to Carol Dweck Ph.D. author of Mindset – The New Psychology of Success, tends to be very prevalent among women. Dr. Dweck's research has revealed that because of the way little girls are praised ("You're so smart" " You're a good girl" ), they grow up believing that they're born with fixed amount of gifts and talents which can't be changed. They're either good at math or bad at math, great programmers or poor programmers, good public speakers or poor speakers. Therefore, they interpret a setback, failure or difficulty learning something as a sign of their inability to master that particular skill.
In contrast, boys are more likely to be praised for to trying new strategies, persisting or working harder after a mistake. As a result, they view struggle or setbacks as part of the learning process which makes them smarter. This "growth mindset" explains why most men believe they can learn almost anything and are more likely than women to reach for challenging opportunities.
A GROWTH MINDSET OPENS THE DOOR TO ACTION
When Allison adopted a growth mindset, she started to believe that she could improve her speaking skills. She enrolled in Toastmasters and challenged herself to speak up at weekly office meetings. As she improved her communication skills, her confidence increased and she became more open to stretching herself in other areas. Shortly afterwards, she applied for and was selected for a team leader position and is continuing to move forward.
INSTA-TIP – SWITCH FROM FIXED TO GROWTH MODE
Have you ever been tempted to quit while struggling to learn something new because you believed you lack talent in that area? Recognize that you're falling into the fixed mindset trap which equates having to work hard to build competence with a lack of ability. Instead of viewing your efforts as a fruitless struggle, see your efforts as making you smarter as you discover what doesn't work, explore new strategies and seek out additional resources.
POWER TOOL – KEEP THE LESSON AND DISCARD THE EXPERIENCE
Are you allowing past failures and setbacks to hold you back from stepping into your potential? It's time to release them. Grab a pen and record the experience and all the emotions surrounding it. By assuming the role of a reporter, you'll decrease the emotional intensity. Next, look honestly at the part you played in this experience but understand that this event does not define or label you. Write down the lessons learned and how you can apply them going forward.
Now that you've internalized the lessons, throw the experience away by destroying or discarding the paper on which you recorded it. Notice how much lighter you feel without that memory weighing you down!
A GROWTH MINDSET FUELS YOU TO STRETCH
Cultivating a growth mindset is the master key to unlocking your self-confidence. Once you realize that you can increase your intelligence and abilities and view failure as a valuable learning tool, you'll be more likely to take action and expand your comfort zone. And – as you'll see in the next post – action is essential for building self- confidence.
BUILD YOUR CONFIDENCE – STEP BY STEP
Enjoy mentoring, coaching and support as you build your confidence in my Thursday morning confidence class – The Pillars of Self Confidence – beginning August 20 in Palo Alto. For more details call 415-830-2373 or visit http://daretoreinvent.com/the-pillars-of-self-confidence/.
Anne Martin, J.D. The Reinvention Mentor is a Certified Professional Performance Coach and Speaker who guides business and professional women in creating and enjoying meaningful success. Her most popular presentations include Breaking the Confidence Barrier, Reinvent & Thrive Through Transition and The Subtle Art of Shameless Self-Promotion. For more details, please visit www.daretoreinvent.com